Industry News
Location:Home > Industry News
Economy moves closer to 'high-income' status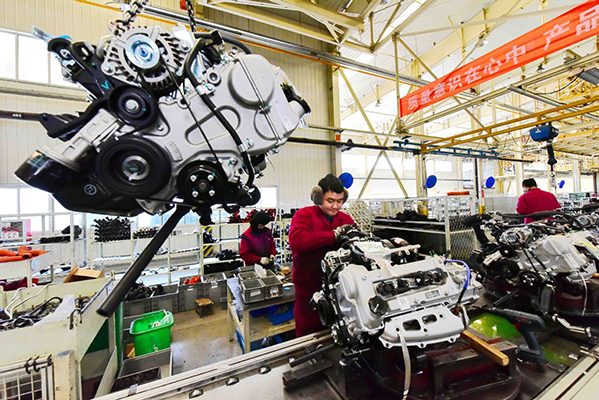 Employees assemble vehicles at an automobile plant in Weifang, Shandong province. [Photo by Wang Jilin/for China Daily]
China will take a solid step toward becoming a high-income country this year, creating more space to deepen reform and expand opening-up, economists said on Friday.
A more balanced growth pattern will help the world's second-largest economy pass the "middle-income trap", with consumption and high-tech manufacturing leading growth, they said at a Beijing seminar leading up to the 2019 China Development Forum, which starts on Saturday.
After decades of rapid GDP growth, China's economy has entered a new era of moderately slowing expansion and a transition to a high-quality growth model. That has pushed economists to reconsider some long-term issues, such as whether the economy would cool down sharply before a considerable rise in wealth, especially after a period of fast growth.
"The key method to ensure China's role as a high-income country is to adjust industrial structures and promote productivity," said Zhu Min, an influential Chinese economist and former deputy managing director at the International Monetary Fund.
High-tech manufacturing, the service industry and the digital economy will be the new engines for the economy, while some traditional driving forces, such as injecting funds into the market, are losing momentum, Zhu said.
China's total GDP exceeded 90 trillion yuan ($13.4 trillion) in 2018, and the per capita GDP was about $9,700. Economists predict that if the country maintains growth of at least 6 percent this year, which is likely given the current momentum, its per capita GDP this year would surpass $10,000.
That means China would move closer to the standards for a "high-income country" — above $12,736 in per capital GDP — set by the World Bank in 2015.
However, a productivity slowdown, aging population and unbalanced regional development could be among the "bottlenecks" that constrain China in becoming a high-income country, economists said.
Given the pressure of the slowing global economy, a high degree of leveraging maintains the top risk for China's economy, thus measures should continue to reduce the debt-to-GDP ratio "in proper order", said Lou Jiwei, chairman of the National Council for Social Security Fund and a former finance minister.
It is necessary to build a long-term and efficient mechanism for financial regulation and fiscal supervision, and to prevent potential risks in the property sector, Lou said.
The three-day China Development Forum has a guest list of more than 150 international delegates, including global industry leaders.